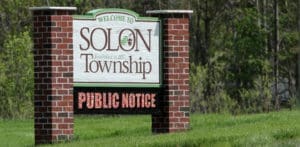 Attention all owners of Solon Township cemetery spaces
Please note that our fall clean-up will be conducted on or after October 10, 2015.
All items, including memorabilia, glass objects, plant hangers and permanent plantings shall be removed from the grave sites.
Items you wish to keep must be retrieved before October 10, 2015.
A copy of the current Solon Township cemetery rules and regulations are available at the Solon Township office.
Posted September 28, 2015
by Solon Township Clerk