Solon Township Fire Department
Chief Jeff Drake
Deputy Chief Chris Paige
2305 19 Mile Rd
Cedar Springs, MI 49319
616-696-0020
email:  Fire@solontwp.org
FOR ALL EMERGENCIES – dial 911
You can contact our Fire Department regarding a burn permit by phone at (616) 696-0020 or fax at (616) 696-1709.
Fire Department Forms: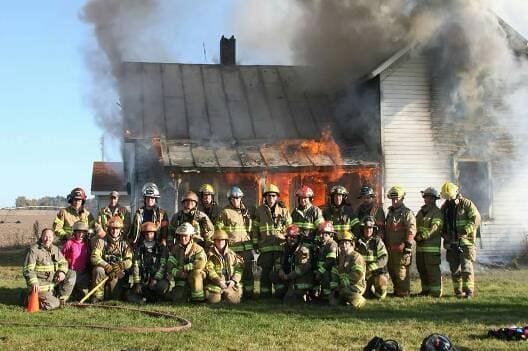 From the Fire Chief's Office
Thank you for visiting our web site, we appreciate your interest in learning more about the Solon Fire Department.  We hope you will find this site helpful and informative. Please take the opportunity to visit us at the fire station; we are here to serve you.
Solon Township Fire Department provides essential emergency services—fire protection, emergency medical basic life support, rescue and hazardous materials response and mitigation from one central station. The Solon Fire Department is a "combination" department; the staffing model consists of a small group of dedicated and trained career, part-time, and paid-on-call firefighters. This includes a part-time Fire Chief, a full-time Deputy Chief working Monday thru Friday 0630 AM to 0430 PM, and a staff of 20 personnel. This staffing model is a balanced approach to meeting the requirements for today's emergency services needs indicated by the operational history and the limited availability of daytime personnel. The department continues to evolve to meet the ever changing needs of our citizens.
The Solon Fire Department is committed to searching for programs, grants, partners, and events to promote safety and prevention. These activities are a very important part of the overall risk reduction and fire prevention goals of the department and are great opportunities to interact with the community.  Our department motto is "Prevention is Paramount".  Our firefighters especially enjoy the time spent with our customers at public relation events and with tours of the station.
The fire service is a deeply rewarding vocation that demands the best a person has to offer.  Being a firefighter is not for everyone and requires an unusual level of commitment, integrity, and dedication. To learn more about becoming a member of our team, the Solon Fire Department, please stop at the fire station and our staff will assist you in any way possible, or download one of the brochures (Volunteer with the Solon Township Fire Department, STFD Informational Brochure) from the link "Become a Firefighter" on this website.
Sincerely,
Jeff Drake
Fire Chief
The Solon Fire Department is a team of efficient, professional and dedicated personnel who serve the community by protecting life, property and the environment through:
•     Public Education
•     Fire Safety Inspections
•     Fire Suppression
•     Fire Investigations
•     Emergency Medical Services
•     Emergency Management and Disaster Response
•     Hazardous Materials Mitigation and Response
Quick Links
•     NFPA – Fire Prevention Week Information!
•     Michigan Association of Fire Chiefs
•     Kent County Emergency Medical Systems (KCEMS)
•     Michigan Crisis Response Association
•     Michigan State Police Emergency Management & Homeland Security               Training Center
•     Toys For Tots
•     Michigan State Fire Marshall
•     Smart 911